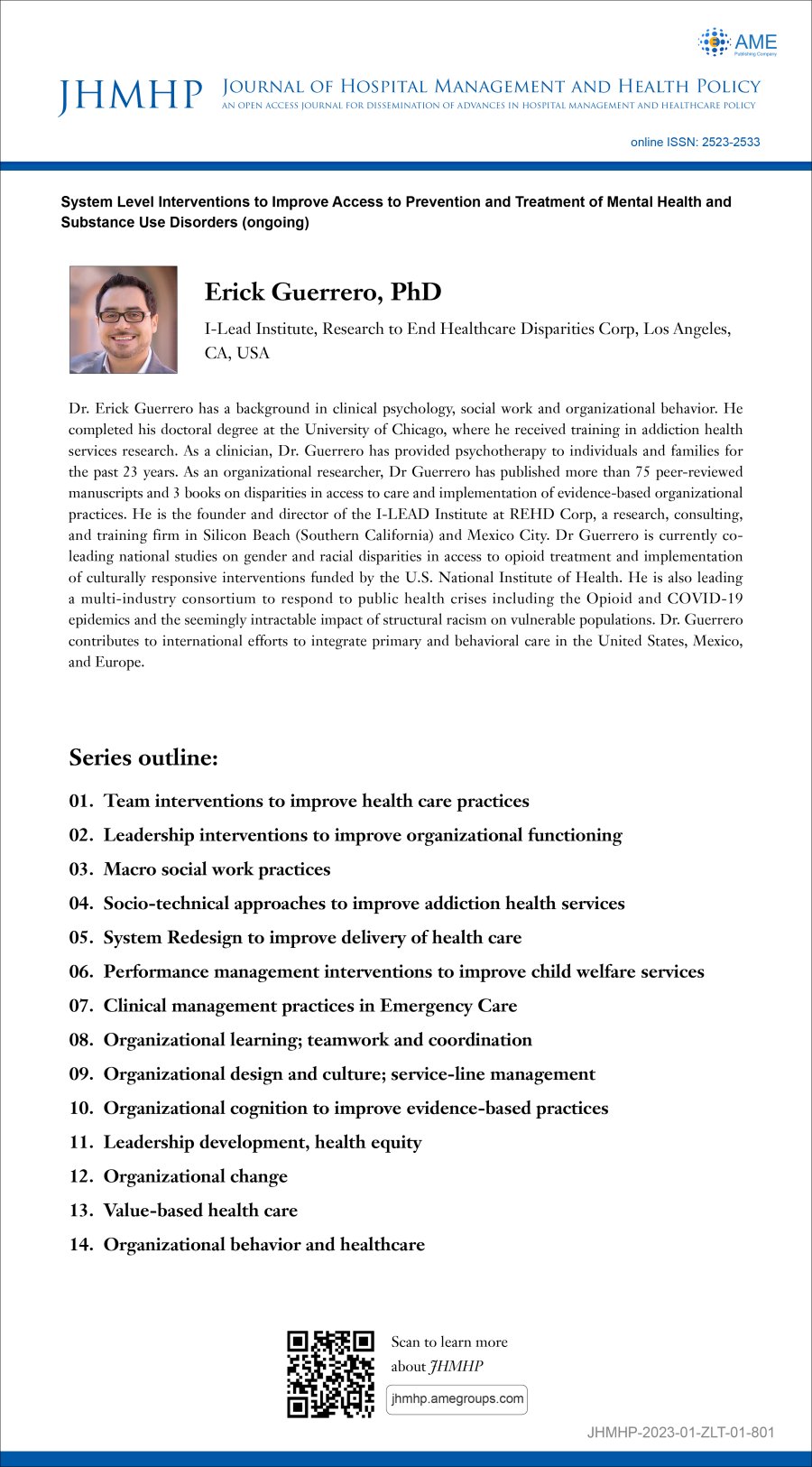 This series on "System Level Interventions to Improve Access to Prevention and Treatment of Mental Health and Substance Use Disorders" is edited by Dr. Erick Guerrero from I-Lead Institute, USA. The main purpose of this series is to present the state of science in evidence-based structural interventions to improve access to prevention and treatment of mental health and substance use disorders.
Erick Guerrero, PhD
I-Lead Institute, Research to End Healthcare Disparities Corp, Los Angeles, CA, USA
Dr. Erick Guerrero has a background in clinical psychology, social work and organizational behavior. He completed his doctoral degree at the University of Chicago, where he received training in addiction health services research. As a clinician, Dr. Guerrero has provided psychotherapy to individuals and families for the past 23 years. As an organizational researcher, Dr Guerrero has published more than 75 peer-reviewed manuscripts and 3 books on disparities in access to care and implementation of evidence-based organizational practices. He is the founder and director of the I-LEAD Institute at REHD Corp, a research, consulting, and training firm in Silicon Beach (Southern California) and Mexico City. Dr Guerrero is currently co-leading national studies on gender and racial disparities in access to opioid treatment and implementation of culturally responsive interventions funded by the U.S. National Institute of Health. He is also leading a multi-industry consortium to respond to public health crises including the Opioid and COVID-19 epidemics and the seemingly intractable impact of structural racism on vulnerable populations. Dr. Guerrero contributes to international efforts to integrate primary and behavioral care in the United States, Mexico, and Europe.
Series outline:
Team interventions to improve health care practices
Leadership interventions to improve organizational functioning
Macro social work practices
Socio-technical approaches to improve addiction health services
System Redesign to improve delivery of health care
Performance management interventions to improve child welfare services
Clinical management practices in Emergency Care
Organizational learning; teamwork and coordination
Organizational design and culture; service-line management
Organizational cognition to improve evidence-based practices
Leadership development, health equity
Organizational change
Value-based health care
Organizational behavior and healthcare
Disclosure:
The series "System Level Interventions to Improve Access to Prevention and Treatment of Mental Health and Substance Use Disorders" is commissioned by the editorial office, Journal of Hospital Management and Health Policy without any sponsorship or funding. Prof. Erick Guerrero is serving as the unpaid Guest Editor for the series.