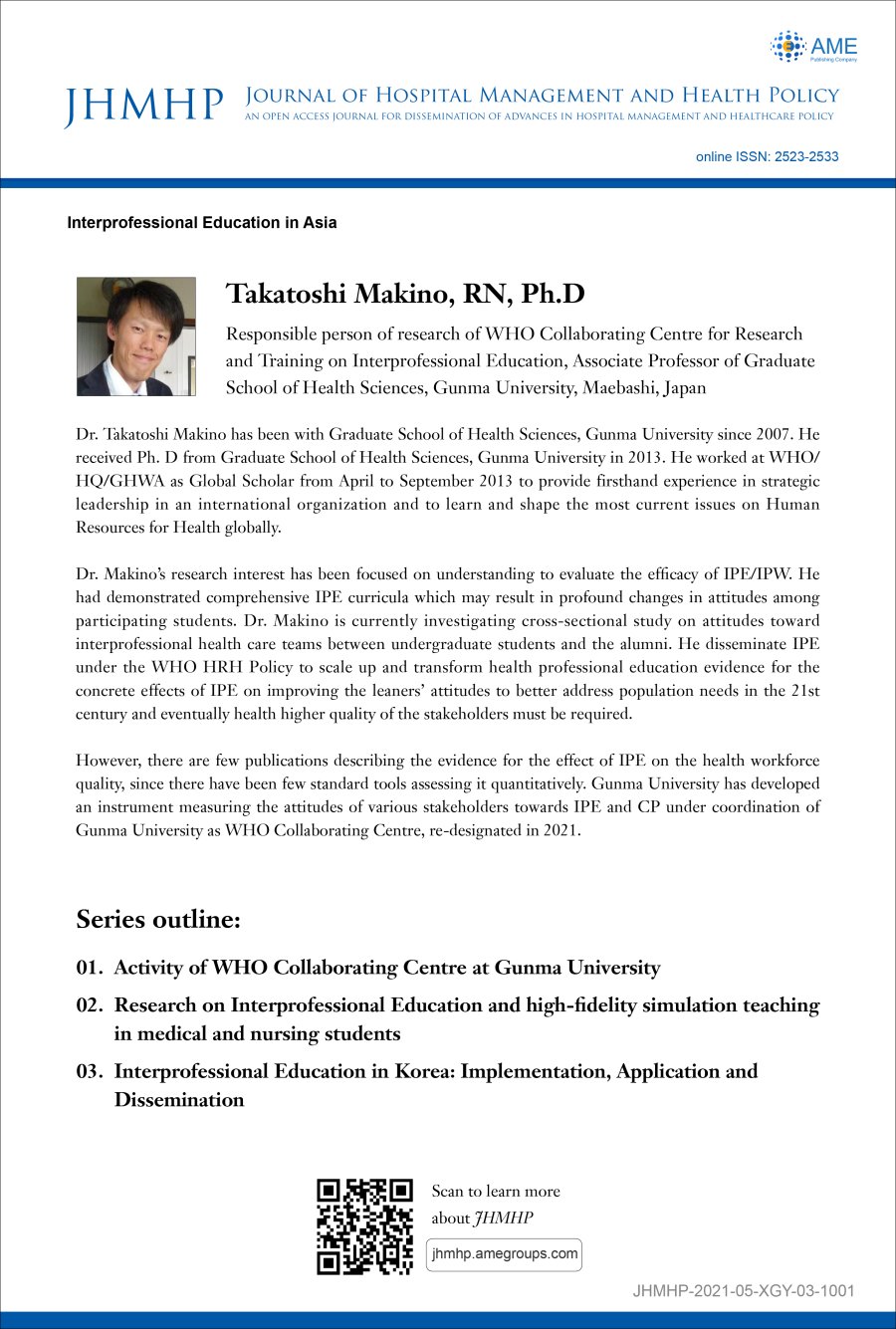 The series on "Interprofessional Education in Asia" is edited by Takatoshi Makino from WHO Collaborating Centre for Research and Training on Interprofessional Education, Graduate School of Health Sciences, Gunma University Initiative for Advanced Research, Gunma University, Maebashi, Japan
Takatoshi Makino, RN, Ph.D.
Responsible person of research of WHO Collaborating Centre for Research and Training on Interprofessional Education, Associate Professor of Graduate School of Health Sciences, Gunma University, Maebashi, Japan
Dr. Takatoshi Makino has been with Graduate School of Health Sciences, Gunma University since 2007. He received Ph. D from Graduate School of Health Sciences, Gunma University in 2013. He worked at WHO/HQ/GHWA as Global Scholar from April to September 2013 to provide firsthand experience in strategic leadership in an international organization and to learn and shape the most current issues on Human Resources for Health globally.
Dr. Makino's research interest has been focused on understanding to evaluate the efficacy of IPE/IPW. He had demonstrated comprehensive IPE curricula which may result in profound changes in attitudes among participating students. Dr. Makino is currently investigating cross-sectional study on attitudes toward interprofessional health care teams between undergraduate students and the alumni. He disseminate IPE under the WHO HRH Policy to scale up and transform health professional education evidence for the concrete effects of IPE on improving the leaners' attitudes to better address population needs in the 21st century and eventually health higher quality of the stakeholders must be required.
However, there are few publications describing the evidence for the effect of IPE on the health workforce quality, since there have been few standard tools assessing it quantitatively. Gunma University has developed an instrument measuring the attitudes of various stakeholders towards IPE and CP under coordination of Gunma University as WHO Collaborating Centre, re-designated in 2021.
Series outline:
Activity of WHO Collaborating Centre at Gunma University
Research on Interprofessional Education and high-fidelity simulation teaching in medical and nursing students
Interprofessional Education in Korea: Implementation, Application and Dissemination
Disclosure:
The series "Interprofessional Education in Asia" was commissioned by the editorial office, Journal of Hospital Management and Health Policy without any sponsorship or funding. Takatoshi Makino is serving as the unpaid Guest Editor for the series.