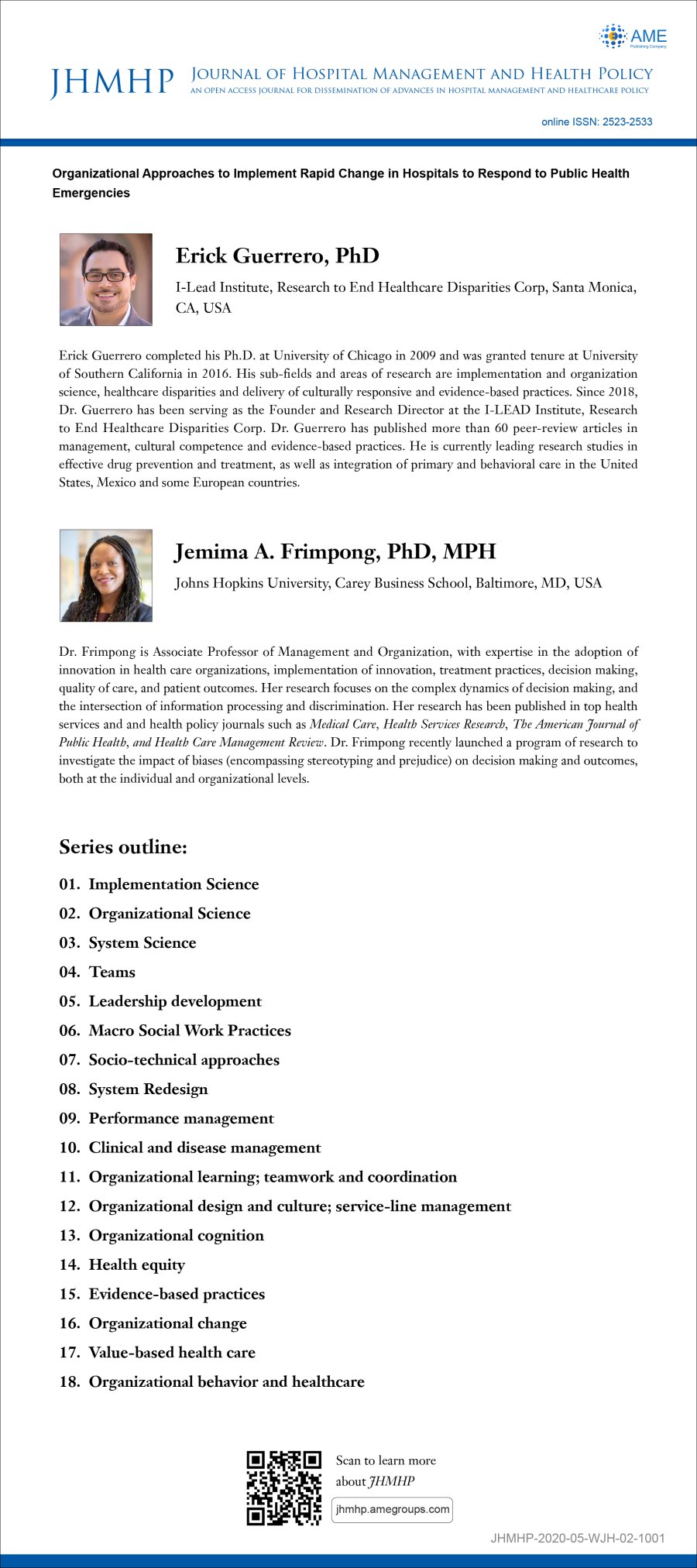 This series on Organizational Approaches to Implement Rapid Change in Hospitals to Respond to Public Health Emergencies is edited by Dr. Erick Guerrero, PhD, from I-Lead Institute at Santa Monica, USA & Dr. Jemima A. Frimpong, PhD, MPH, from Johns Hopkins University at Baltimore, USA. It seeks theoretical and empirical papers on ways in which hospitals and other health care organizations, may be able to confront current (e.g., the COVID-19 pandemic), ongoing (e.g. HIV, opioid overdose), and upcoming epidemics affecting population health. The purpose of this series is to advance Systems, Organizations, and the Implementation Sciences by developing and testing frameworks that lead to a responsive, coordinated, reliable and effective public health system.
Dr. Erick Guerrero completed his Ph.D. at University of Chicago in 2009 and was granted tenure at University of Southern California in 2016. His sub-fields and areas of research are implementation and organization science, healthcare disparities and delivery of culturally responsive and evidence-based practices. Since 2018, Dr. Guerrero has been serving as the Founder and Research Director at the I-LEAD Institute, Research to End Healthcare Disparities Corp. Dr. Guerrero has published more than 60 peer-review articles in management, cultural competence and evidence-based practices. He is currently leading research studies in effective drug prevention and treatment, as well as integration of primary and behavioral care in the United States, Mexico and some European countries.
Dr. Frimpong is Associate Professor of Management and Organization, with expertise in the adoption of innovation in health care organizations, implementation of innovation, treatment practices, decision making, quality of care, and patient outcomes. Her research focuses on the complex dynamics of decision making, and the intersection of information processing and discrimination. Her research has been published in top health services and and health policy journals such as Medical Care, Health Services Research, The American Journal of Public Health, and Health Care Management Review. Dr. Frimpong recently launched a program of research to investigate the impact of biases (encompassing stereotyping and prejudice) on decision making and outcomes, both at the individual and organizational levels.
Series outline:
Implementation Science
Organizational Science
System Science
Teams
Leadership development
Macro Social Work Practices
Socio-technical approaches
System Redesign
Performance management
Clinical and disease management
Organizational learning; teamwork and coordination
Organizational design and culture; service-line management
Organizational cognition
Health equity
Evidence-based practices
Organizational change
Value-based health care
Organizational behavior and healthcare
Disclosure:
The series "Organizational Approaches to Implement Rapid Change in Hospitals to Respond to Public Health Emergencies" was commissioned by the editorial office, Journal of Hospital Management and Health Policy without any sponsorship or funding. Erick Guerrero and Jemima A. Frimpong are serving as the unpaid Guest Editors for the series.