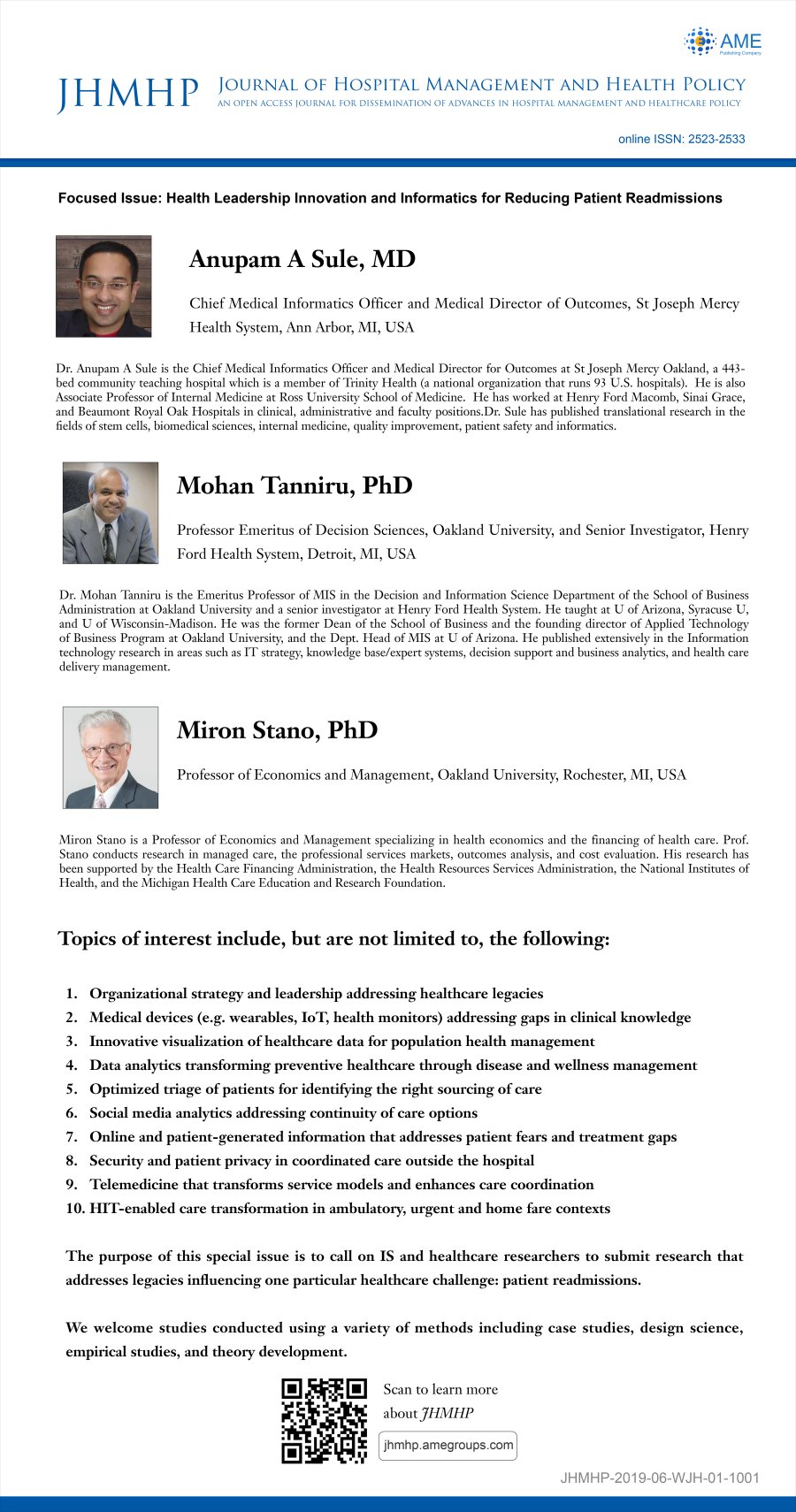 This focused issue on "Health Leadership Innovation and Informatics for Reducing Patient Readmissions" is edited by Dr. Anupam A Sule, from St Joseph Mercy Health System, USA; Mohan Tanniru, from Henry Ford Health System, USA; and Dr. Miron Stano, from Oakland University, USA.
Dr. Anupam A Sule is the Chief Medical Informatics Officer and Medical Director for Outcomes at St Joseph Mercy Oakland, a 443-bed community teaching hospital which is a member of Trinity Health (a national organization that runs 93 U.S. hospitals). He is also Associate Professor of Internal Medicine at Ross University School of Medicine. He has worked at Henry Ford Macomb, Sinai Grace, and Beaumont Royal Oak Hospitals in clinical, administrative and faculty positions.Dr. Sule has published translational research in the fields of stem cells, biomedical sciences, internal medicine, quality improvement, patient safety and informatics.
Dr. Mohan Tanniru is the Emeritus Professor of MIS in the Decision and Information Science Department of the School of Business Administration at Oakland University and a senior investigator at Henry Ford Health System. He taught at U of Arizona, Syracuse U, and U of Wisconsin-Madison. He was the former Dean of the School of Business and the founding director of Applied Technology of Business Program at Oakland University, and the Dept. Head of MIS at U of Arizona. He published extensively in the Information technology research in areas such as IT strategy, knowledge base/expert systems, decision support and business analytics, and health care delivery management.
Miron Stano is a Professor of Economics and Management specializing in health economics and the financing of health care. Prof. Stano conducts research in managed care, the professional services markets, outcomes analysis, and cost evaluation. His research has been supported by the Health Care Financing Administration, the Health Resources Services Administration, the National Institutes of Health, and the Michigan Health Care Education and Research Foundation.
Topics of interest include, but are not limited to, the following:
Organizational strategy and leadership addressing healthcare legacies

Medical devices (e.g. wearables, IoT, health monitors) addressing gaps in clinical knowledge

Innovative visualization of healthcare data for population health management

Data analytics transforming preventive healthcare through disease and wellness management

Optimized triage of patients for identifying the right sourcing of care

Social media analytics addressing continuity of care options

Online and patient-generated information that addresses patient fears and treatment gaps

Security and patient privacy in coordinated care outside the hospital
Telemedicine that transforms service models and enhances care coordination

HIT-enabled care transformation in ambulatory, urgent and home fare contexts

The purpose of this special issue is to call on IS and healthcare researchers to submit research that addresses legacies influencing one particular healthcare challenge: patient readmissions.

We welcome studies conducted using a variety of methods including case studies, design science, empirical studies, and theory development.